Skip the Plastic Surgery and Get a Smile Makeover Instead!
Do you want to rejuvenate your appearance? Do you find yourself looking the mirror, turning your head from side to side, wondering when you started to look so tired or so old?
Maybe you're considering Botox or fillers or some other cosmetic procedure or surgery. If this sounds familiar to you, why not look into rejuvenating your smile?
A smile makeover can change a lot about your face, and it might just enable you to skip the plastic surgery altogether!
When you get a smile makeover, you might start small with teeth whitening, or you might do something more dramatic such as dental veneers. Whatever you choose to do, your smile will look fantastic in the end, and just that one thing can change so much about your face.
As we age, our teeth can grind down. It's a matter of simple use and is a natural part of our aging process. Dental veneers can lengthen stubby teeth, automatically taking years off of your appearance.
Missing or gapped teeth can lead to the other teeth collapsing in upon the empty space, starting a shifting process that can, over time, affect the entire face. Dental implants or a dental bridge can fill the gaps left by missing teeth. Restorative work can change the shape of a patient's cheeks and lips, restoring a fullness associated with youth.
When your smile is beautiful, you possess a natural confidence that radiates from your face. You aren't afraid to laugh, smile or talk with others, because you know your smile is attractive. In the past, you may have hidden your teeth, but now, you can forget those old self-conscious habits and live your life, confident and self-assured.
A beautiful smile can transform your appearance. Don't turn to plastic surgery; call Sarasota cosmetic dentist Dr. Jenifer Back and begin enjoying your rejuvenating smile makeover today.
Get Noticed With a Smile Makeover!
Do you find yourself looking at photos of yourself and noticing a shy or absent smile? Do you look first at the bright, even smiles of friends or coworkers and wish that you could have one too? Do you find yourself trying to blend with the background because you don't want people to see you eat, drink or laugh because your smile is unsightly?
Your smile is the first thing people notice about you. If it's stained or unattractive, it leaves an unfortunate impression with the people you meet. Whether they mean to or not, they're making assumptions about you. A white, healthy smile is a sign of confidence and of health, while a smile that doesn't possess these things signals the opposite. A lack of a smile can also signal unhappiness, and may lead strangers to think you're unfriendly.
Confidence in your smile allows you to speak up in meetings at work, or to feel comfortable enough to make a presentation at a conference. A bright smile allows you to smile freely for the camera and at everyone you meet. Don't be the person on the outskirts of life; live the life you desire, beginning with the confidence and ease a beautiful smile can bring.
Whether you have stained teeth that need a little in-office whitening, or if you need to see an orthodontist to correct more major alignment issues, a cosmetic dentist can lead you in the right direction. Minor tooth imperfections can be fixed by tooth-colored resin composites, while larger issues such as overall tooth length could require dental veneers. Missing or gapped teeth can be addressed with dental bridges or dental implants.
A skilled cosmetic dentist in Sarasota, FL can develop a plan to address all of your smile concerns. Whether your treatment is completed in one or two visits, or requires ongoing treatment, you won't regret taking any steps you can toward a bright, healthy smile. You will immediately notice the changes in yourself and in the way others react to you.
Redesigning Your Smile with a Makeover
When you want to improve the way you look and feel, makeovers are often a great place to start. There are many ways to accomplish this, such as changing your hairstyle or wardrobe or obtaining plastic surgery.
Consulting a cosmetic dentist for a smile makeover is another great way to change your look.
What is a smile makeover?
A cosmetic dentist works with you to create a plan for your smile that helps you achieve your goals. The dentist will examine the position and condition of your teeth and gums, and consider how your smile fits with the rest of your features.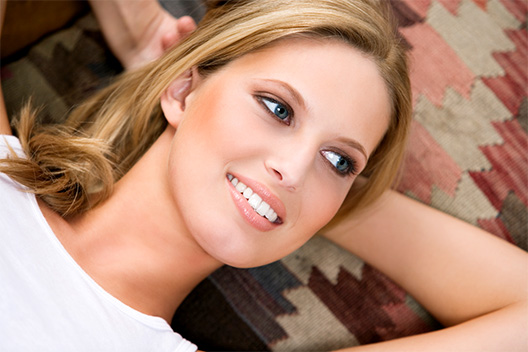 What kinds of procedures are performed?
There are many types of treatments that can be done to improve smiles. A very popular one is teeth whitening, which can dramatically improve your look in just an hour when professionally done in a dental office. Severe teeth stains or other flaws like chips, gaps, or misalignment can be hidden with dental veneers. These porcelain shells fit right over the fronts of your teeth to give you a perfect, natural-looking new smile. When your gums don't line up ideally, such as showing too much or too little of your teeth, gum contouring or a gum lift are options to create a more appealing look. For teeth that are misshapen or the wrong size, bonding with a composite resin material can help. These are not the only options in smile makeovers; your cosmetic dentist can present more solutions that might be right for you.
What is the process for getting a smile makeover?
The first step is having a consultation with a qualified and experienced cosmetic dentist. You can explain your smile goals, identify what you like or dislike about your smile, and undergo a thorough examination. Together, you can come up with a treatment plan and you'll be able to ask all of your questions before making a decision on any procedures. Finally, you will set appointments for the treatments you choose and then have the dental work done so that you can enjoy your new smile.
Get Your New

Smile Today!
Our team of cosmetic dentistry experts are ready for you.
Call: (941) 927-5450