Taking Care of Your Dental Implants
If you have recently undergone dental implant surgery, you will want to know how to care for your new implant and what potential problems to look for following surgery, so you may heal properly and maintain your good oral health.
Implant patients are carefully screened to ensure that they are healthy enough for dental implant surgery, as there are always risks and possible complications to the patient. Patients with allergies, existing medical conditions, bleeding disorders, infections or disorders that inhibit healing should be examined thoroughly. The surgeon plans carefully to ensure the success of any dental implant and that the patient heals properly.
Dental implant surgery has a high success rate. Failures of a dental implant usually results from infection, fracture of the implant itself, damage to the nerves, blood vessels and teeth surrounding the implant, or overloading of the dental implant. Poor positioning and poor bone quality can also pose an issue to dental implant success. A qualified surgeon can help avoid these issues, but should you face them, another surgery can replace a failed implant.
Dental implants run the risk of developing peri-implantitis, an infection and inflammation of the bone holding the implant in place. If left untreated, peri-implantitis can lead to the loss of the implant. Be vigilant to the signs of infection and stay in touch with your surgeon, who will give you the best advice for healing.
Once a dental implant is in place, maintain your routine of good oral hygiene. Brush twice a day and floss once, especially before bedtime. It is essential to establish and maintain a lifelong habit of good oral hygiene so that your teeth remain as healthy as possible. See your dentist twice a year for professional check-ups and cleanings.
Non-smokers and patients who have already established patterns of good oral hygiene heal faster and are more likely to have a full recovery. Your surgeon may advise you to stop smoking before your dental implant surgery to improve your odds of successful implant surgery.
Take care of your teeth and your new dental implants, see your dentist regularly, and your dental implants should last a lifetime.
Reasons to Consider Dental Veneers
The most popular procedure in cosmetic dentistry is dental veneers, which can quickly and painlessly rejuvenate your smile. Veneers are thin shells usually made of porcelain that adhere to the fronts of your teeth to hide problems underneath. It may be stains, gaps, chips, misalignment, or other issues that make you unhappy with your smile. Veneers cover those types of problems completely so that you can be proud of your smile.
It typically only takes a couple of dental visits to get veneers. Once you and your dentist decide together that veneers are right for you, measurements and models will be made of your teeth so that the veneers can be custom-made. Your teeth will require slight preparation to make the veneers hold securely, and temporary veneers will be placed until your permanent ones are ready. In the next appointment, the veneers will be attached and your smile will be complete.
Veneers can make your smile flawless. It doesn't matter how bad your teeth might have looked before veneers, they will cover the flaws and make your smile brand new. White, polished, perfectly shaped teeth will make up your smile.
Another advantage is that veneers will boost your confidence level. Chances are that you have been embarrassed and self-conscious about your smile, making you uneasy to enjoy even the small things in life when you don't want to show your teeth. Veneers can permanently solve this problem, giving you a reason to show off your pearly whites.
The process for getting veneers is pretty much painless. This dental restoration helps you avoid more uncomfortable dental procedures. Instead of going through injections, extractions, orthodontics, or other treatments, veneers allow you to get a brand new smile without any of discomfort.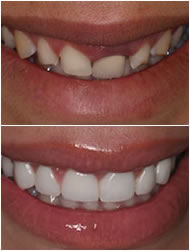 Dental Veneers: Are They Right for You?
Dental veneers are a highly versatile solution for a number of different problems including discolored, unevenly spaced teeth, and teeth that are slightly misaligned. A dental veneer is a very thin shell that is custom-made by your cosmetic dentist in Sarasota to fit over your natural tooth, creating a beautiful smile.
How do Dental Veneers Work?
Veneers are made from very thin pieces of tooth colored material and can be used to alter the shape, size and length of your teeth. They can be constructed from composite resin or porcelain. Most are made from porcelain as this material gives beautiful results and is resistant to stains.
What are the Benefits of Choosing Veneers?
Veneers look incredibly natural so they'll blend in beautifully with your real teeth.
Porcelain veneers are resistant to stains so they won't discolor if you like to smoke, drink tea or coffee or red wine.
Porcelain veneers come in many different shades, and can whiten your smile while hiding minor imperfections.
Dental veneers can be a good alternative to full crowns as they can mend minor chips and cracks.
What Are the Disadvantages of Choosing Veneers?
Dental veneers are not usually covered by insurance as they are considered to be cosmetic.
Some people find their teeth become more sensitive after their veneers are fitted, as the process removes a small amount of tooth enamel.
Dental veneers are not usually reversible and do need renewing periodically.
Will Veneers Work for Me?
Your dentist in Sarasota may recommend porcelain veneers as an alternative to wearing braces. Veneers can be used to correct slightly crooked teeth, or to close up or minimize gaps in between teeth. Veneers are very good for hiding discolored teeth that don't respond to normal tooth bleaching. Dental veneers are not such a good choice for teeth already weakened by decay or large fillings, and in this case full crowns may be a better option.
Reasons that Veneers May be Right for You
Porcelain veneers hide your teeth's imperfections so that you are happier with your smile. They are very thin shells that are adhered onto the fronts of your teeth to permanently give you the look you want. Veneers can make your teeth look straighter, whiter, and better than ever before.
How do you know if veneers might be right for you? Here are some things to consider when deciding whether veneers can help your smile:
You would like to alter your teeth permanently.
You want to change the color of your teeth.
Your front teeth are broken or chipped.
Your teeth are not evenly spaced.
Your teeth are not aligned straight.
You'd like to improve your smile quickly.
You don't want to affect much of your natural teeth.
You would like a brighter smile.
If any of these statements describe your situation, then porcelain veneers might be a good choice for you. Of course the first thing you need to do is consult a dentist for advice. Many times, the ideal person for the job is a cosmetic dentist. This type of specialist focuses on performing procedures to help patients achieve their cosmetic smile goals. Veneers is one such treatment that has grown in popularity because it transforms smiles in just a few short appointments, and it is a painless approach.
When you visit a cosmetic dentist, you will be able to describe what bothers you about your teeth and learn if you are a good candidate for veneers. If so, the dentist will explain the simple process of having your porcelain veneers custom-made in a lab for you. Your natural teeth will undergo some minor preparation, and when your veneers are ready the dentist will securely attach them to your teeth. Then you will be set to show off your new smile!
Get Your New

Smile Today!
Our team of cosmetic dentistry experts are ready for you.
Call: (941) 927-5450